The Velammal International School (TVIS) stands as a premier institution in Tamil Nadu, dedicated to nurturing and unleashing students' talents. Founded by the visionary leaders of the Velammal Educational Trust (VET), TVIS is affiliated with the Central Board of Secondary Education (CBSE) and upholds the highest international educational standards within the framework of CBSE guidelines. At TVIS, we're proud of our dedication to academic excellence, as evidenced by our outstanding success in preparing students for the NEET and JEE exams. Our expansive 80-acre campus, situated just 25 km from Chennai, offers a cutting-edge learning environment. Our air-conditioned smart classrooms maintain a 1:10 teacher-student ratio, ensuring personalized attention, with a maximum of 25 students per class.
The Welcome to Velammal Sports Academy!
At Velammal Sports Academy, we believe in the transformative power of education and sports. Our institution stands as a beacon of holistic development, where we nurture young minds to excel not only academically but also athletically. We warmly welcome you to explore our world-class facilities, dedicated faculty, and a culture that celebrates the pursuit of knowledge and athletic excellence. Brief Overview of Velammal Sports Academy: Velammal Sports Academy is a place where the synergy between academic excellence and sporting prowess thrives. Our commitment to shaping well-rounded individuals sets us apart. Here, students don't merely excel in their studies; they also develop physical fitness, sportsmanship, and teamwork.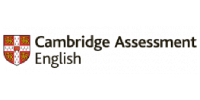 The Velammal Sports Academy
Our Core Belief: Igniting Excellence in Sports
We cherish innovation, embrace inclusivity, encourage exploration, foster creativity, uphold independence, and ignite ambition.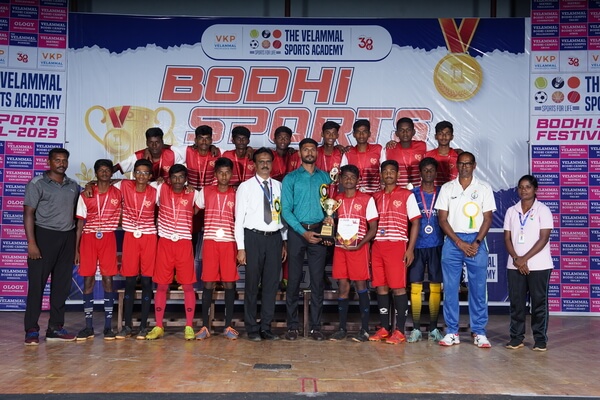 Our Core Belief: Igniting Excellence in Sports
We cherish innovation, embrace inclusivity, encourage exploration, foster creativity, uphold independence, and ignite ambition.
Former Tamilnadu Cricketer, India Veterans Player, BCCI NCA Level 'B' Coach, Chief Coach
Our Sports Programs: Your Path to Excellence
At Velammal Sports Academy, we offer a diverse range of sports programs designed to cater to athletes of all levels and ages
Tennis
Tennis enthusiasts can refine their skills and technique through our tennis program. Whether you're a beginner or an advanced player, we have the coaching and facilities to support your growth.
Badminton
Excel in badminton on our courts with guidance from experienced coaches. Join Velammal Sports Academy for top-notch sports facilities that fuel your child's athletic and academic journey.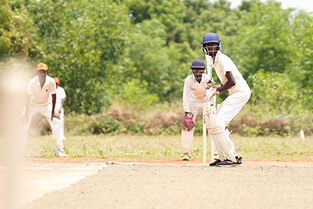 Cricket
The cricket program at Velammal Sports Academy provides a comprehensive training regimen for budding cricketers. From mastering the basics to fine-tuning advanced techniques, we prepare you for the cricketing world.
Squash
Dive into squash on our specialized courts, perfect for honing your skills.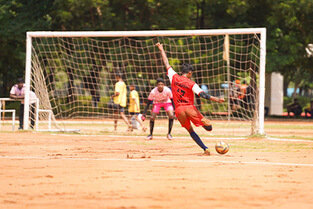 Football
Experience the passion of football on well-maintained fields with dedicated coaching.
Table Tennis
Our world-class indoor tennis academy features six top-notch table tennis courts for intensive training.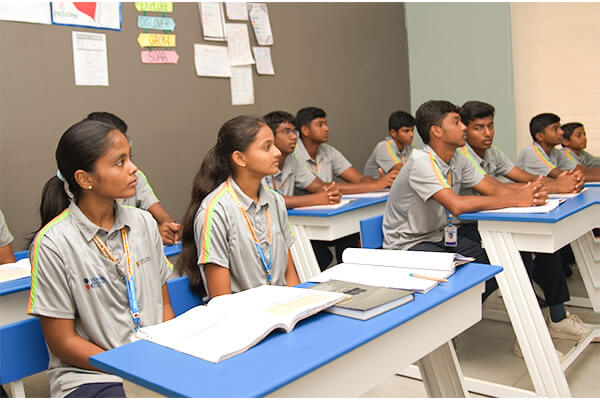 Hostel Facilities at The Velammal Sports Academy
We recognize the pivotal role a conducive living environment plays in a student's holistic growth. That's why we've meticulously designed hostels to foster a nurturing and supportive atmosphere for our students.
Our hostel accommodations are designed to offer a home away from home for our students. Each room is thoughtfully furnished to ensure their comfort and privacy.
The Velammal Sports Academy Inaugural function
For More Queries, Leave Your Details below We'II get back to you!
TVSA : Where Sports and Academics Converge for Excellence!